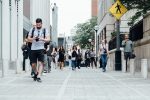 Have you ever wondered if there's a limit to how many emails you can send from a Gmail account? Are large companies ever restricted? Let's answer these questions today!
Firstly, when sending through the web platform, Gmail will limit your account to 500 emails over a 24-hour period. If you're sending through Thunderbird, Apple Mail, Outlook, or another email client, this reduces to 100. Interestingly, the limit is also 100 for sending through a script (such as AppsScript or PHP script).
Is it possible to reach this limit? In truth, it's actually very easy because every single 'To', 'BCC', and 'CC' counts as an email. If you're sending an email with seven 'CC', this adds to the original 'To' and counts as eight emails. With this in mind, emails with lots of 'BCC' or 'CC' will probably be rejected.
Important Notes
For Gmail, this is an absolute limit – sometimes, new accounts will have reduced limits until reputation increases.
If you go from sending one email every two weeks to dozens of emails a day, Google has the right to lock the account for 24 hours. Why? Especially when the emails have attachments, they might think it's spam or that you've been hacked.
If you try to send an email during this lockout period, the clock will reset to 24 hours.
When using a mail client, your Outbox will hold any unsent messages; while in the Outbox, the client will keep attempting to send and the clock will keep resetting so clear the Outbox completely.
The 24-hour lockout applies to excessive emails as well as unusual activity. If your account keeps violating the Google Terms of Service, they reserve the right to close it. After being closed, Gmail accounts are notoriously hard to recover.
All the limits discussed here apply to free Gmail accounts.
GSuite Limits
GSuite accounts can have limits of up to 2,000 emails (this is the same number for the maximum number of recipients for a single email). Max recipients per message, if you are sending through SMTP or scripts is 100.
Don't use Gmail for mass emailing
While Gmail is a great platform for both personal and business use, it is not a platform for mass emailing.
Gmail is designed for person-to-person email sent directly, rather than bulk messaging of large number of emails.
So Google has setup limitations on the number of emails you can send through Gmail.
In order to help prevent spam and keep accounts safe, Gmail limits the number of emails you can send or receive per day, and the number of people you can add as recipients.
Continual violation may result in your account being closed for violation of Google Terms of Service ; and if this happens, you may have great difficulty in recovering the account, if at all possible. So don't spoil your account and reputation by mass emailing using Gmail.
Solutions
This does not mean that you can't reach out to your subscribers or customers through email. In fact, email is one of the best medium to reach out to your customers.
Send emails only to those who subscribed to your list

Unsolicited emails will have very limited response rate and your email addresses and domains will get blacklisted soon
Unsolicited emails are spam and you may come under legal scanner soon.

Use services designed specifically for mass emailing. (such as Amazon SES, SendGrid etc). These services ensure email deliverability and have better reputation. This increases the chances of your email being read by more of your users.
Also see:
References: