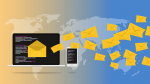 Currently (as of 2019), you are allowed to create up to 4 accounts using the same computer system or phone number. So, every IP address can have not more than four Gmail accounts. You must however verify your account with a phone number, as part of the several safety verifications Gmail has put in place to ensure the proper use of its service.
If you are a personal user, you would most likely need one or two email addresses. One for personal use and another for professional use. Fortunately, you don't have to get a different browser for each email address, as Gmail allows you to switch between your accounts in the same browser.
Away from the status quo now, there is a simple method that allows you to create unlimited number of Gmail addresses. This comes really handy if you are ever require different email addresses for various reasons – perhaps to get an information across to an email user or address you do not trust. All you need to do is tweak your Gmail address.
For instance, if you have a real email address of janedoe@gmail.com, you are also the owner of the email addresses: jane.doe@gmail.com and janedoe+sampletext@gmail.com. Now, you can replace the "sampletext" part of the address with anything, so that you can have addresses like janedoe+twitter@gmail.com or janedoe+instagram@gmail.com among others.
You won't have to worry about the number of accounts as far as genuine uses are concerned. On the other hand, if your intention is to create hundreds of email accounts for sending out spam, that no longer works. The number of verification steps in place are strong and you may just waste your effort trying to game the system.