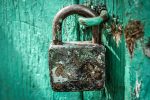 The AutoReply App for Gmail was created as a productivity app, hoping to save the user's private time by replying to emails while they are having quality time with their families. Ever since the AutoReply App was released, the user feedback has been excellent. It is truly encouraging to get enthusiastic users. There are a number of features suggestions that I received from users too, saved in my ToDo list for the App.
However, the good times are coming to an end. I am forced to shut down the AutoReply App for Gmail. I will explain the reasons in a moment. Meanwhile, thanks for all the supportive emails and encouraging words. Your feedback proves the potential of the App.
Why
While building the App, the Gmail API was open and the Google Approval process was straight forward and simple enough to sustain an app of this kind.
However, that changed quickly when Google decided to make the Gmail API extremely restrictive. The Autoreply App could get through Google's own review. However, the next step requires me to recruit third-party assessors paying 75000 US Dollars per year to continue using Gmail API.
For a simple, small app like Auto-Reply app, it is impossible to sustain with such requirements. I am open to any kind of security assessment or review, but the kind of heavy upfront fee makes it impossible to keep up with.
What happens to your Account and AutoReplies
The service will keep running for another three months, until September 30th, 2019. So your auto-replies also will keep running till that point.
Alternatives
The solutions below come close:
Special Thanks to "Pro" Account Holders
The "pro" upgrade was set up so that to make a better, sustained service. A special thanks to all the "pro" subscribers for the support. You are awesome because I did exactly zero marketing for the AutoReply App and you proved that the App is worth paying for.
Sorry I might have shattered your expectations and couldn't keep up. Your money will be fully refunded in a few weeks. The payment processor will take some time to do all the refunds. All the refunds will be completed by September 1st 2019. Please feel free to write any concerns to me: prasanth (at) gsmart.in.
Removing the AutoReply Chrome extension
If you have installed the autoreply Chrome extension, it will show in the Gmail interface Quick launch bar like this: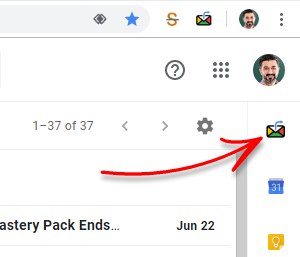 You can remove the Chrome add-on by going to chrome://extensions/
Then press the remove button against the AutoReply add on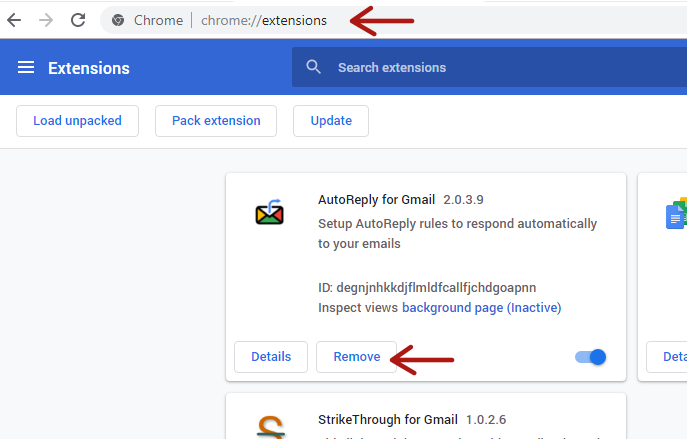 More information